Army Archives
The Founder's First Convert
"'You're not happy!' he says, putting his arm around me. And I knew it was true, for I was everything vile, contaminating and diabolical. So he prayed and I was converted."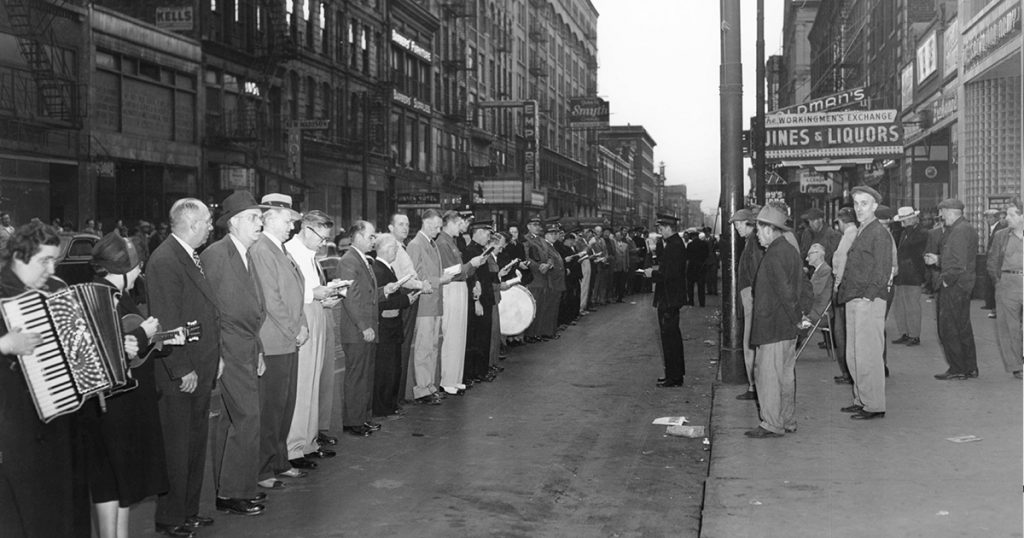 I am an old Irishman and used to be a prize fighter, many years ago. I usually bested what I took on. We used to fight at the back of The Blind Beggar public house, and it was there that a match had been arranged between me and another Irishman named Fitz-Gerald.
There had been a bit of a chip between us, and the fight was to be a big one. One morning I was walking towards the public house when I came across Mr. Booth for the first time in my life. That was on the twenty-sixth of July, 1865. I stopped dead in the street looking at him. And he stopped too, looking at me.
I could see he was a minister, for he wore a white choker and a tall hat, and I thought he was strange to the place. After he had looked at me a long while, he said sadly, "I'm looking for work." I was taken aback.
"I've got no place," says he, "to put my head in." I got hold of some coins in my pocket, and was just going to offer them to him, when he pointed to a great crowd of the boys outside a public house nearby.
"Look at those men!" says he. "Look at them! Nobody cares about them. Why should I be looking for work? There's my work, over there, looking for me. But I've got no place where I can put my head in."
"You're right, Sir," I said, "those men are forgotten by all. And if you can do anything for them 'twould be a great work."
And what made me say that? Well, he was the finest looking gentleman ever you saw–white-faced, dark-eyed, and a great black beard over his chest. Sure, there was something strange about him that held onto a man. Well, he told me he was preaching in the Mile End Waste, and asked me to come and hear him, and bring some of the boys along with me. I said I would.
On the next day I was to fight Fitz-Gerald. I says to myself, "This'll be the last fight of your life," for I was still thinking of that Mr. Booth.
Well sir, I thought Fitz-Gerald would kill me. He was a terrible man, taller altogether than me and fierce with it, and proud too. But he gave up after an hour and three-quarters. I beat him, and all the boys were making a hero of me. But I felt sick. I didn't want ever to fight again.
As soon as I could I went off to Mile End Waste, where Mr. Booth was preaching. He was holding forth, surrounded by the blackguards of Whitechapel, who in them days were the greatest vagabonds you could meet anywheres on God's earth.
Some were mocking and some were laughing, but Mr. Booth he shouted at them finely, and then gave out a hymn and led the singing till he just drowned their noises, or nearly so.
I felt funny.
I threw off my coat, and walked around the ring instead of joining them vagabonds. In two minutes they were as quiet as lambs.
Well, when the meeting was over, Mr. Booth linked hold of me and said he, "How did you do it?" I told him that there were better men than me in that crowd, but that my nationality covered a bit of that, for they all knew an Irishman could fight.
Then he looked me square in the face and said, "You're not happy. You'll perish like a dog. You're living for the devil. The devil will take you."
I reared back.
"Who made a prophet of you?" I says, but I had to put down my eyes.
Mr. Booth didn't give up. He said, "You'll be a man yet."
Not long after, I couldn't stay away and went to his meetings.
"You're not happy!" he says, putting his arm around me. And I knew it was true, for I was everything vile, contaminating and diabolical. So he prayed and I was converted.