Frontlines
GPS Squad
Memphis Teens Serve and Inspire Their Community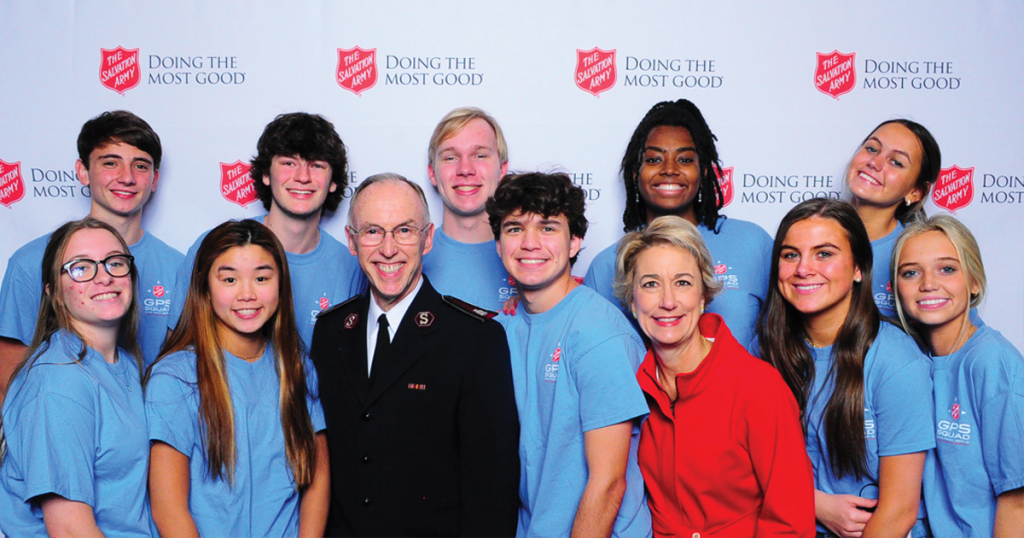 In Memphis, Tennessee, a group of high school students are constantly on the move, doing the most good wherever and whenever possible. This group is called the GPS (Give, Pray, Serve) Squad, and they are made up of middle to high school aged students and their families who volunteer their time and energy to assist in The Salvation Army's various programs in the Memphis area. They do Club 3:16 at the local Kroc Center, bell ringing at Christmas time, and everything in between.
The group was started in the fall of 2014 when a student suggested the idea to their school's administration, who turned them down. Soon after, local Salvation Army leadership caught wind of the idea and supported it in full force. The idea was combined with that of a group of mothers who wanted to find hands-on volunteer opportunities for their families to participate in together, and the GPS Squad was born. It has since grown into a pool of 400-500 volunteers who are contacted when any need arises. They then sign up and show up to respond to that request. They're organized via SignUpGenius, where every member will get an email notification when a volunteer request has been entered by a GPS Squad leader.
While the group is made up of teens and families from all around Memphis, the largest groups come from Memphis University School, Hutchison School, and St. Mary's Episcopal School. The ministry is not limited to members of The Salvation Army; many of GPS Squad's members are from other churches and denominations.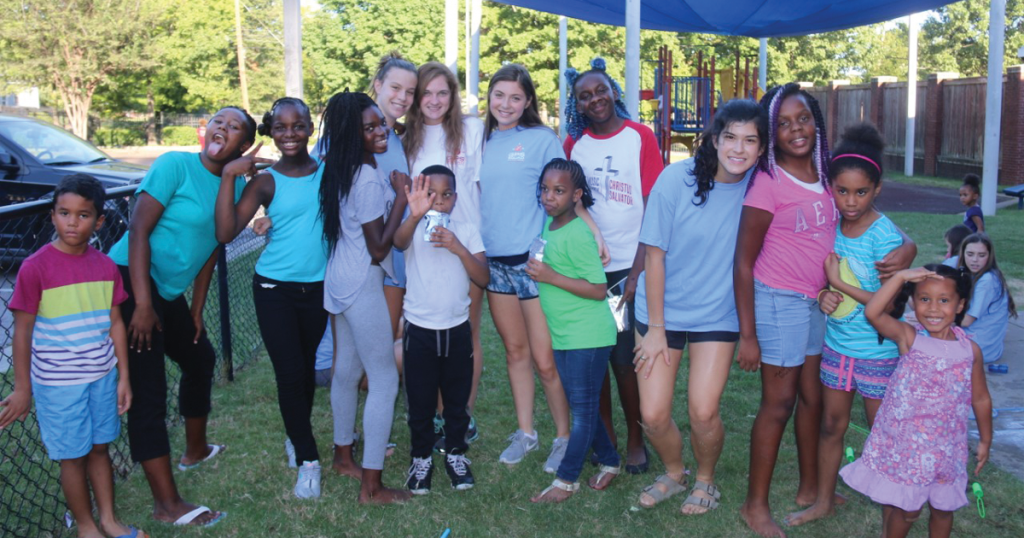 Christina Roberts, one of GPS Squad's leaders, says that the Squad does more for its young participants than just facilitate volunteer service. It's a means of growing and developing their faith in Christ. She recalls an experience after one of the Squad's monthly Family Fun Nights at the Purdue Center of Hope, a shelter for women and children, where her volunteers came up with a method to expand the ministry at that location on their own. "I sat there, and I [thought], 'I'm keeping my mouth shut because this is getting better every minute.'" The teens decided to place "Prayer Buckets" around the center where people could fill out prayer request cards on Family Fun Night, and the volunteers would take those cards home and pray over the requests for the next month. They ran out of cards quickly, as even the staff at the Purdue Center were filling them out.
Christina says that while opportunities to volunteer may have dwindled during 2020, the kids' desire to serve did not. A group of "rock star" teenage volunteers that Christina refers to as "the Power 5" were extremely active during the pandemic's Christmas season. "They did 1000 hours in the warehouse along with some of their buddies. They got involved in a time where people were scared, people were not getting out. They were not [scared]. We were all masked up and we served 3300 Angels [in 2020] in the Angel Tree warehouse." Christina adds that the students, who are mostly from challenging private schools, would even spend time helping at toy distributions close to exams, studying ahead of time and then being at the warehouse during typical study hours.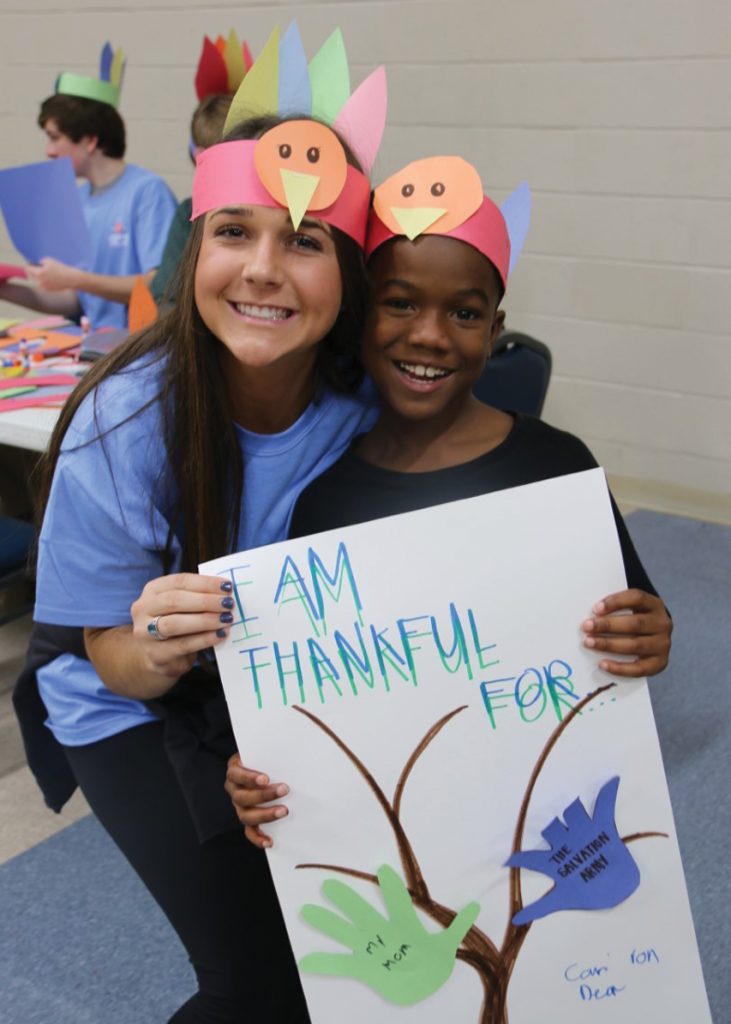 Turner Bishop, one of GPS Squad's dedicated volunteers, was interviewed over the phone while installing mini libraries at the Kroc Center. He shared that one of his favorite activities with the group has been leading children in Club 3:16, which was picked up last summer and run through to late October. "We did it for so long [that] I was really able to become friends with lots of kids there," Turner says. "It was a really uplifting experience to see how you could be a parental figure to these kids, and how they look forward to seeing you. And you look forward to seeing them." Club 3:16 had to be put on pause for the Christmas season, but Turner hopes it can start again soon, as he's graduating from high school this year and leaving the GPS Squad – although not permanently.
Turner describes the Order of the Bell Society, a kind of honorary membership in GPS Squad for graduating seniors who wish to stay involved. "At the end of senior year … the core members of each school will be asked to be inducted," says Turner. "Christina always stays in touch, even beyond graduation. So, we will try and do whatever we can for the GPS Squad." He says that when members of the Order of the Bell return from college for their various breaks, they're ready to hop right back in and help with any GPS Squad effort. "The GPS Squad has opened my eyes to the world of service, and I genuinely am excited to pursue something similar to this in college."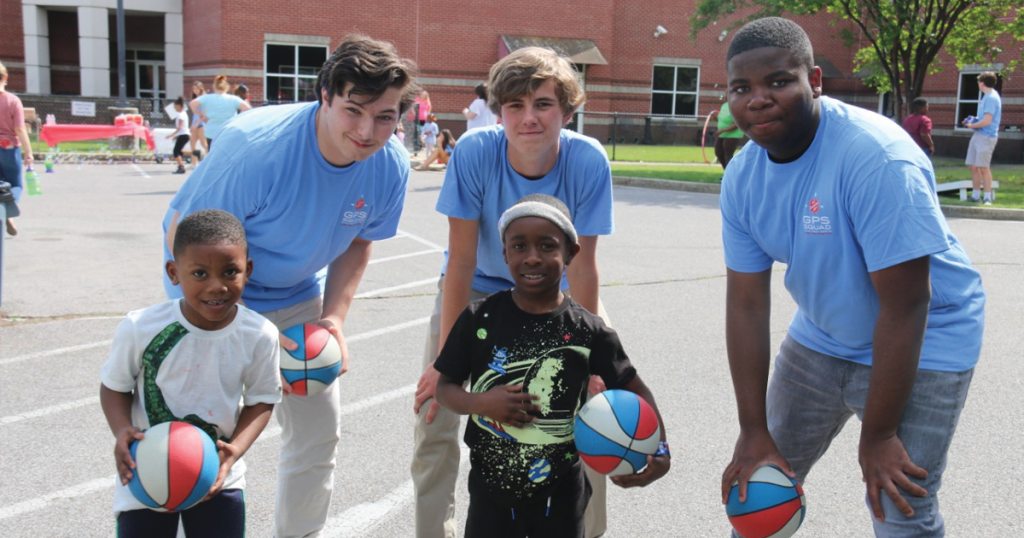 Commissioner Kenneth Hodder visited Memphis last year and met the GPS Squad during the Red Kettle Kickoff, where he was thoroughly impressed with their work. "It's a fantastic organization," says the Commissioner. "I was overwhelmed by their energy, their deep understanding of The Salvation Army, and their earnest desire to serve others in need."
Turner mentioned how he and other GPS Squad members were excited to spend time with the Commissioner. "I never expected to meet the National Commander, and I had brought a bunch of my friends with me that day," he says. "I was so excited because I wasn't aware that he was going to be there!"
Commissioner Hodder expressed excitement towards the future of GPS Squad, and the prospect of potentially expanding the organization to other locations across the country.
Turner, too, is optimistic about the Squad's future and for what 2022 has in store. "I think it holds nothing but hope."
Report by David Reardon