Try This
Classic Carrot Cake
Prep time: 25 minutes | Cook time: 30 minutes | Serves: 10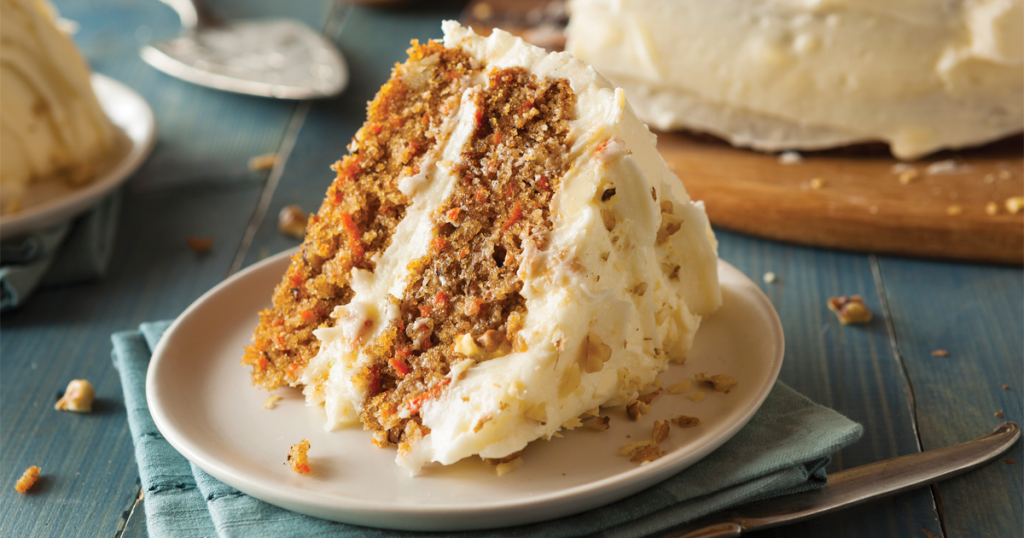 For Cake
3 cups carrot, hand-grated
2 ½ cups all-purpose flour, plus 1 tablespoon, divided
2 teaspoons ground cinnamon
¼ teaspoon allspice
1 teaspoon kosher salt
1 teaspoon baking powder
½ teaspoon baking soda
1 cup light brown sugar, packed
½ cup granulated sugar
3 large eggs, room temperature
1 cup vegetable oil
1 cup raisin
1 cup crushed pineapple, canned
For Icing
1 cup unsalted butter, (2 sticks) room temperature
12 oz cream cheese, room temperature
1 ½ teaspoons vanilla extract
2 cups powdered sugar
2 cups walnuts, crushed
Instructions
Preheat the oven to 350˚F (180˚C). Grease 3 8-inch (20 cm) round cake pans and line with parchment paper.
Grate the carrots on the small holes of a box grater. Set aside.
In a large bowl, sift together 2½ cups (310 G) of flour, the cinnamon, allspice, salt, baking powder, and baking soda. Whisk together.
In a separate large bowl, beat the brown sugar, granulated sugar, and eggs together with an electric hand mixer on medium speed until just combined.
With the mixer running, gradually pour in the vegetable oil.
With the mixer on medium-low speed, add 1/3 of the flour mixture at a time to the wet ingredients. Beat just to incorporate. Stop mixing when there is just a small amount of flour visible.
In a small bowl, toss the raisins with the remaining tablespoon of flour.
Add the raisin, grated carrots, and pineapple to the batter and fold to incorporate with a rubber spatula.
Divide the cake batter evenly between the prepared pans and smooth the tops.
Bake for 25-30 minutes, until a fork inserted in the center of a cake comes out clean.
Cool the cakes on a wire rack until the pans are cool to the touch. Remove the cakes from the pans and let cool completely on the rack.
Make the icing: In a large bowl, beat together the butter, cream cheese, and vanilla with an electric hand mixer on medium-low speed. Once combined, mix on medium-high speed for 30 seconds, until light and fluffy.
Add the powdered sugar, ½ cup
(60 G) at a time, beating on medium-low speed to incorporate each addition.
Assemble the cake: Check to see if the top of each cake is flat. If not, use a serrated knife level off the cakes.
Place 1 cake layer on a serving platter or cake stand. Spoon ¼ of the icing on top and spread in an even layer. Add another layer of cake and spread with another ¼ of the icing. Set the last cake layer on top with the bottom up to ensure a very flat surface. Spread the rest of the icing over the top and sides.
Gently press the walnuts into the icing around the sides of the cake.
Chill for 30-60 minutes to let the icing set, then slice and serve. Enjoy!
Reprint: This recipe first appeared on Tasty.co, written by Kiano Moju. To read more visit https://bit.ly/3pxIia4.