Frontlines
Alisa's Story
Life dealt Alisa a difficult hand. But thanks to The Salvation Army, there is hope in the cards.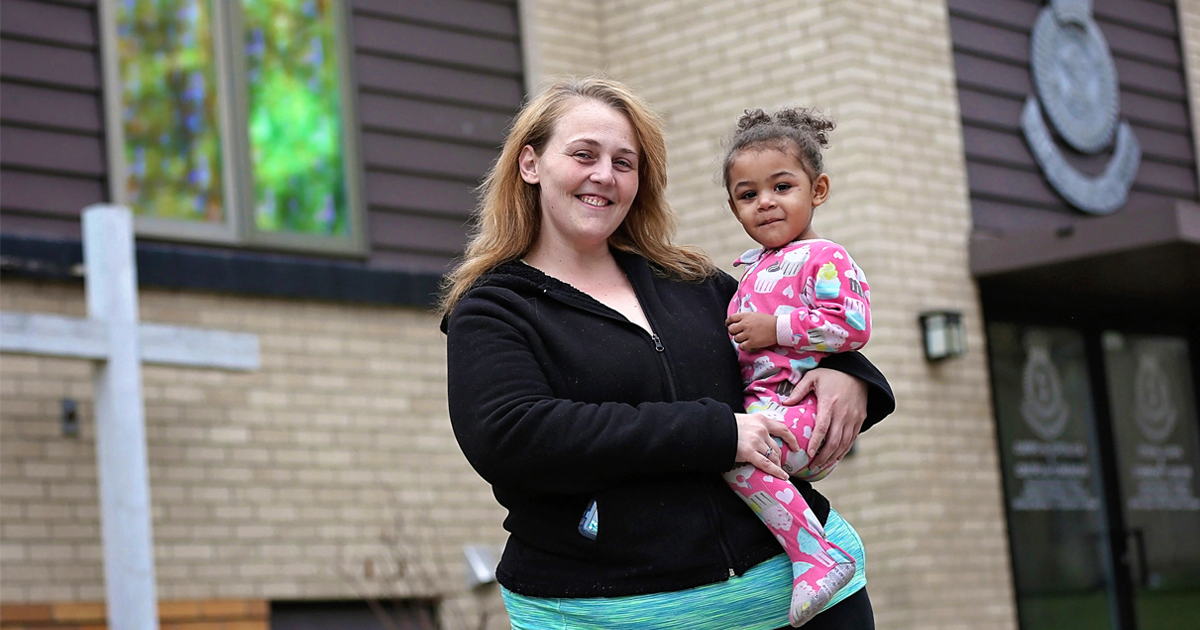 The Pathway of Hope provides individualized services to families with children. This national initiative is applied creatively in the Army's four U.S. territories based on local circumstances and the physical, psychological, and spiritual needs of the families involved.

***
Alisa is a 34-year-old single mother of two from Albert Lea, Minnesota. She spent most of the past seven years working as a card dealer at a casino in northern Iowa.
"The money was good, but the stress wasn't," Alisa said.
The stress of her personal life had been difficult. In September 2017, she left the father of her daughter due to his problems with substance abuse.
"He became a monster when he was using," said Alisa, whose daughter is now 2 years old. She also has a 10-year-old son from her ex-husband, whom she left in 2010.
After Alisa fled her turbulent home in 2017, she found herself completely alone, with two children to feed.
"All I had was my kids' toys and our clothes– that's it," Alisa said.
Immediately she went to the Albert Lea Salvation Army for help.
Starting Over
Alisa knew she could depend on the Albert Lea Salvation Army. She'd attended church there for years, and occasionally she stopped by to receive food and diapers.
"The Salvation Army is like family," Alisa said. "They are people I can turn to if I'm struggling or if I just need somebody to talk to."
The social services staff helped Alisa obtain housing by paying a portion of the deposit for a mobile-home rental. After she and her kids moved in, Alisa took further control of her life by enrolling in a Salvation Army mentoring program called Pathway of Hope.
In Pathway of Hope, participants meet with a Salvation Army caseworker every week to set and accomplish short and long-term goals such as finding a job, securing housing, creating a budget, obtaining education, growing spiritually, and more. The program lasts six months to a year and is offered at Salvation Army locations throughout Minnesota, North Dakota, and nationwide.
Alisa started Pathway of Hope in October 2017.
"My biggest goal was to get my life back and live independently," she said. "I started with small goals. I began to figure out where I wanted my life to look like in a week, a month and a year."
Several of her immediate goals included obtaining her birth certificate, getting her driver's license reinstated, and buying a car. She accomplished all three within several months.
Another goal of hers was to learn how to budget. Through Pathway of Hope, she attended budgeting classes and watched instructional videos.
"I learned the difference between wants and needs–to not spend what I didn't have," Alisa said.
She also found a new job. She now works as a personal care attendant. This occupation is less stressful than dealing cards and far more flexible.
"I have guaranteed hours, and I can choose my own schedule," Alisa said.
Bright Future
Alisa graduated from Pathway of Hope last year, having accomplished all of her goals.
"I'm stronger now," she said. "For so many years I was made to believe that I wasn't good enough. But I can stand up for myself now. I have confidence now. I have God now."
Her next big goal is to own a house.
"I'm going to succeed," Alisa said. "I'm not going to allow myself to fail. I have to keep going for my kids."
Alisa still attends church at the Albert Lea Salvation Army, and occasionally she stops by to chat with the newest caseworker there, Amber. Currently, Amber is working with three families who are enrolled in Pathway of Hope. She believes that Alisa's incredible story can inspire other Pathway of Hope families to succeed.
"A lot of people fall backward when they're trying to move forward – but not Alisa," Amber said. "She comes in here and she's motivated. She's willing to improve her situation for herself and her kids. She's a great mom and she's a great person."