Frontlines
A Single Mom Breaking the Cycle of Poverty
Generational poverty is a tragic cycle that can seem impossible to break. Lora's story illustrates that. Like many in poverty, she learned bad behaviors from her parents, who'd learned the same bad behaviors from their parents, and so on.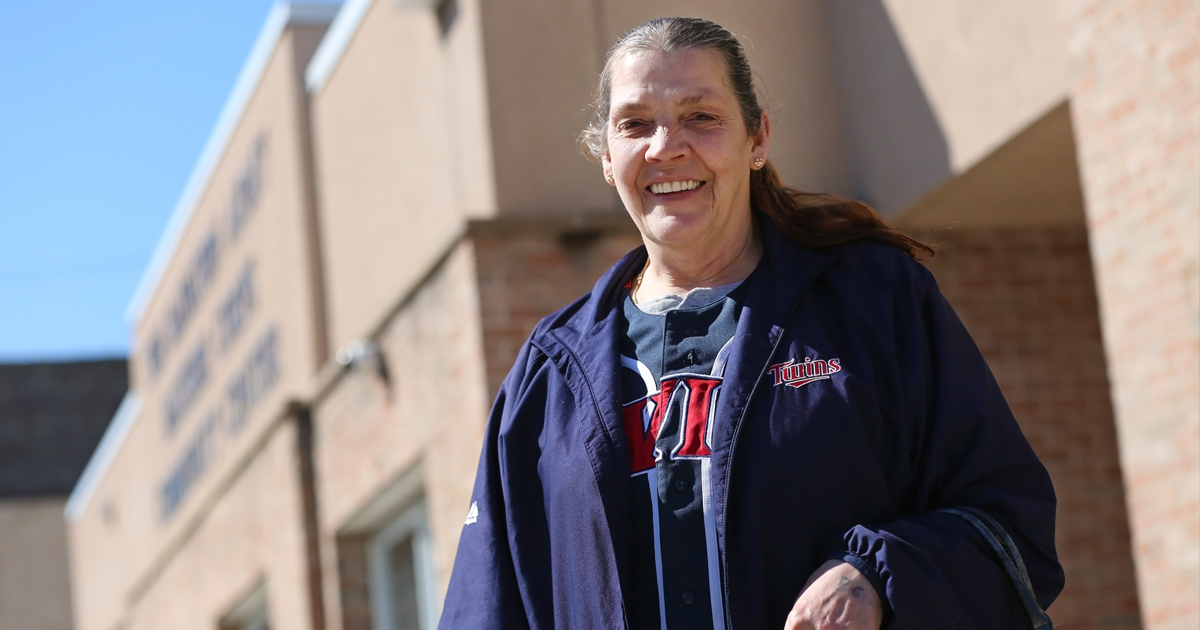 The Pathway of Hope provides individualized services to families with children. This national initiative is applied creatively in the Army's four U.S. territories based on local circumstances and the physical, psychological, and spiritual needs of the families involved.
***
Lora, 54, grew up in North Minneapolis with her mom and five siblings. Her mom dated abusive men, drank often, and was rarely home.
"My oldest sister started raising us when she was 14," Lora recalled. "We were hungry a lot. I learned how to steal food from grocery stores when I was just 9 years old."
She went on to use drugs and alcohol, enduring decades of substance abuse, homelessness, and heartache.
Today, Lora is different. She is sober, positive, and an excellent mother and grandmother. She rejects the bad behaviors that she learned in her past.
Lora credits much of her transformation to The Salvation Army and a special mentoring program called Pathway of Hope–a nationwide Salvation Army initiative that helps families break the cycle of generational poverty and reclaim their lives.
Survival
For Lora to begin living a positive life, she had to unlearn a lifetime's worth of bad habits and wrong ways of thinking.
It wasn't easy. She'd been on her own since she was 13, when her mother sent her to a school for troubled youth for three years.
"People thought I was a dumb," said Lora, who later discovered she had a learning disability, but not until she was 30 years old.
She dropped out of school at the age of 16 and began living in Minneapolis, drinking and partying daily. When she was 17, she met an older man and moved in with him.
"He had money," Lora said. "It was a way of surviving."
At 19, she became pregnant by a drug dealer. Six months into her pregnancy, the father shot her twice after she accidentally knocked over his drugs with her stomach.
"One bullet hit me in the back and the other hit my arm," Lora said.
The father fled, leaving her to die. She crawled out of the house and found help at a neighbor's house.
"I never saw the father again," Lora said. "I have no idea what happened to him."
She spent most of the next three months in the hospital, bedridden. Incredibly, her baby survived.
Today, Lora has six children by four different fathers. Her youngest child is 15 and her oldest is 34.
Vicious Cycle
As Lora got older, her life became a broken record. She'd drink heavily, live with bad men, become homeless, get sober, relapse, and repeat.
"Over and over it was like that," said Lora, who has been to treatment seventeen times throughout her life.
Eventually, her kids were taken away from her.
"That was the worst day of my life," Lora said. "After I lost them, I got drunk for eighteen months straight. I lived under bridges and did things I never imagined I'd do. I lost my way of being human."
She would never accept help from anybody because she couldn't comprehend that love and kindness were real things.
"Once you get to a level of no respect for yourself and no hope inside, it's hard to believe that somebody could care about you," Lora said. "You push away the people who are good because they don't seem normal. They seem like the enemy."
Rock Bottom
Lora finally quit drinking sixteen years ago, right after her first granddaughter was born.
"I was in detox when my daughter called and told me that I'd never see my granddaughter until I was sober," Lora recalled, fighting back tears. "My stomach felt like it'd been ripped apart. I fell to my knees and said, 'God, I surrender.'"
Later, she left detox and began walking along a sidewalk in St. Paul. She reached down to the ground to pick up a discarded cigarette to smoke, and just then, a gust of wind blew a piece of paper across her path. It was a flyer that read "Homeless Help." She placed the flyer into her purse.
Later, she dumped out the contents of her purse in search of loose change. The flyer fell out and she decided to call the number on it. A man named Mark answered and said he had an extra shelter room for her, as long as she could stay sober.
The moment was a turning point–Lora went straight to the shelter and she's been sober ever since.
Safety
Although Lora successfully stopped drinking, she still couldn't break her habit of shacking up with bad men.
Thankfully, that addiction ended last summer when she came to The Salvation Army. She arrived the day after police had raided her apartment in search of her then-boyfriend, whom she didn't realize was a wanted felon. She and her teenage son were forced to move out for their own protection.
With nowhere to go, Lora and her son went to the Payne Ave. Salvation Army in St. Paul. Lora was familiar with the place because she had occasionally stopped there for food.
"I don't know why I went to The Salvation Army," Lora said. "I didn't know what else to do."
She met with a caseworker named Kristy, who dropped everything she was doing to assure Lora that everything would be OK. They talked for hours and prayed together.
"I felt a connection with Kristy that I have never felt with anyone," Lora said. "Her warmness was real. It felt like no matter who I was, what I'd done, or where I'd been, she still cared about me."
Kristy referred Lora to several housing agencies, and within a month, Lora and her son had secured an apartment. Kristy provided additional help by giving Lora vouchers for clothes and household items.
Afterward, Lora didn't stop coming back to the Payne Ave. Salvation Army. She returned weekly to attend church and to meet with a women's Bible study group. Through these activities she learned to set boundaries and surround herself with positive people.
"The Salvation Army has become a safe zone for me," Lora said. "There are good people here."
Pathway of Hope
Lora took her recovery to the next level by enrolling in The Salvation Army Pathway of Hope program.
Pathway of Hope is an intensive family mentoring program. Participants meet with a Salvation Army caseworker weekly to set and accomplish short- and long-term goals such as finding a job, securing housing, creating a budget, obtaining education and more.
Lora started the program in August. Ever since, she has been meeting with Kristy one or more times per week.
One of Lora's main goals has been to rebuild her self-esteem.
"I have learned that it's okay to be myself," she said, "That's hard for somebody who has had to survive their whole life; when you're not used to being yourself, it's hard to know who you are. I believe in myself now."
She is using her newfound self-confidence as a building block to achieve her next goals: finding a job and obtaining an education.
"I'm focused on these goals," Lora said. "I know they won't happen overnight and I have learned that that's okay. Before, I wanted to fix it, fix it, fix it. But things take time."
Kristy is thrilled by Lora's progress and proud of how far she has come.
"Lora's perseverance and her commitment to finding peace in her life are amazing," Kristy said. "Her son now has a happy and stable home, and a mother who has proven that she can overcome obstacles that once seemed insurmountable."Countless families are enrolled in Pathway of Hope throughout Minnesota, North Dakota, and nationwide. The majority of participants are single parents, with an average age of 41, and an average of three kids living in the house.