Frontlines
A New Mission Field
If you or a loved one uses TikTok, be sure to support the people who are working to make it a God-loving community.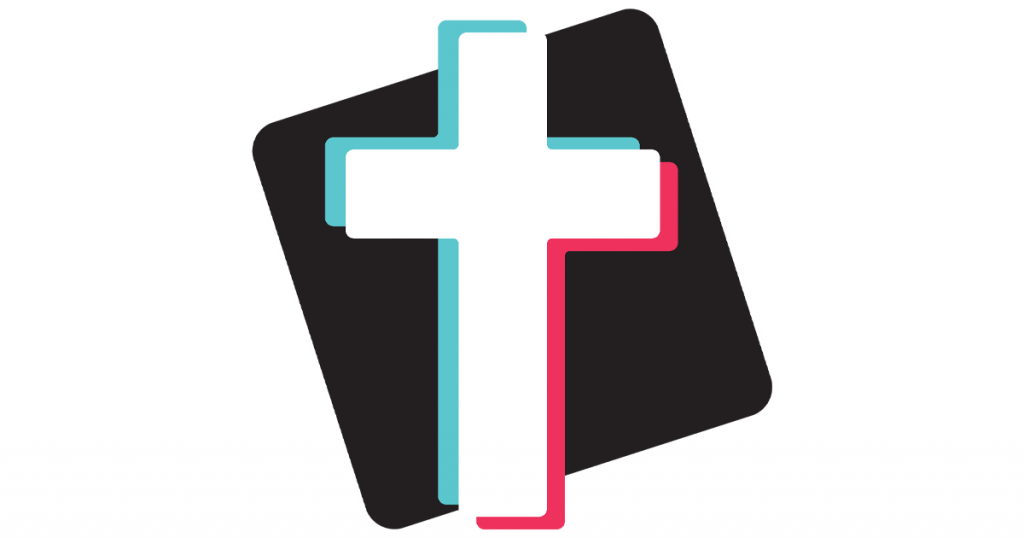 Ever since William Booth brought the Gospel to the bars of London, The Salvation Army's history has been rooted in taking our message to wherever people are. Today, people are on their phones and on the internet, so we've continued to reach them by taking advantage of the connectivity offered by many of the recent digital platforms and social media sites established. The Salvation Army has countless YouTube videos, Facebook posts and Tweets, as well as all other kinds of presence on the internet.
You're more than likely aware of TikTok, one of the biggest platforms in the world, with over 1 billion users. If you're not, TikTok is a social media app where users create short videos about any topic they like. Users have access to a wide variety of filters, music and sound bites with which they can edit their clips. It's been a space for people to engage with one another and exercise their creativity since the app launched in 2016.
After the app began to gain popularity in 2018, many members of The Salvation Army joined in on the fun to spread God's love and positivity to other users, taking the opportunity to potentially reach millions of people. At the time of writing, videos tagged with #salvationarmy have gotten over 59 million views, with other related tags such as #salvationarmythriftstore and #salvationarmycamp also gaining several thousand or millions of views.
Captain Wonni In of the Eastern Territory is one of the Salvationists actively engaging with the TikTok community. Her videos largely feature herself dancing (which is probably the most popular video category on TikTok) to both viral and Christian music while short messages such as "Dance if you love Jesus!" or scripture verses are written on the screen.
"I think there's a stigma in the universal church that the gospel is only meant for the pulpit," says Captain In. "If our mission is to love God and love His people, then it means going out and reaching them where they are."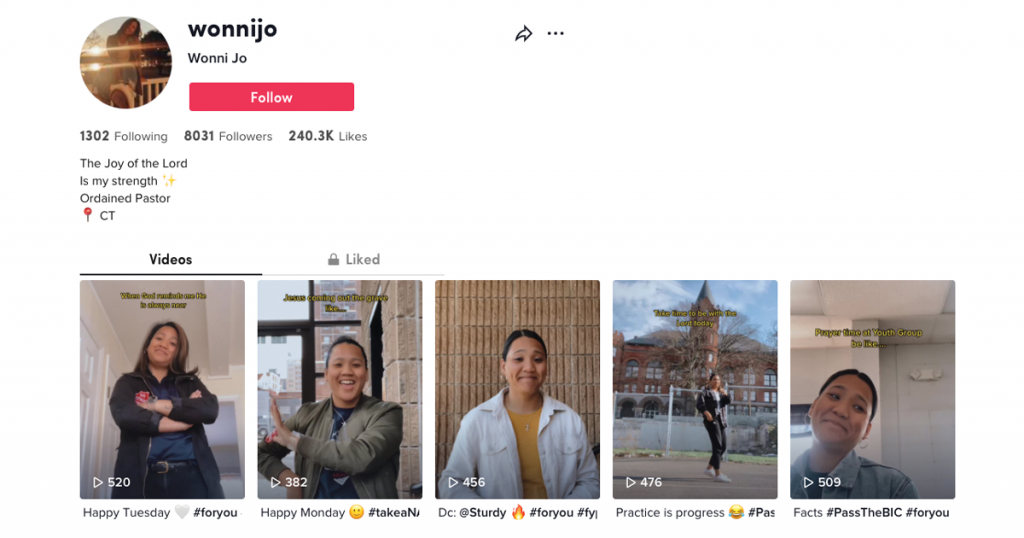 Captain In sees TikTok ministry as an opportunity to share biblical truths in new ways. "TikTok is a platform where you must think outside the box. Be creative. Have fun," she says. "The Gospel is the truth. And who says you can't dance while sharing a scripture verse?" But it's also about sharing the truth of The Salvation Army, when so many misleading narratives distort our intentions. She adds, "[Its] to bring to light who The Salvation Army is and what we do is evangelism." You can follow Captain In on TikTok @wonnijo.
Captain Vinal Lee from the Central Territory is also incredibly active on TikTok, but he doesn't do much dancing. His videos can mostly be described as "micro-sermons," as he excitedly shares scripture, anecdotes and illustrations in a format that might be more accessible than a recorded 40-minute sermon.
Captain Lee is aiming to cultivate an online space to share God's message. He says, "I am creating a community in a digital space that is not afraid to lean into hard questions and wrestle with what it means to follow Jesus. There is a generation who are absent from our churches, but present online." Captain Lee's goal is to craft a message that will speak to that generation.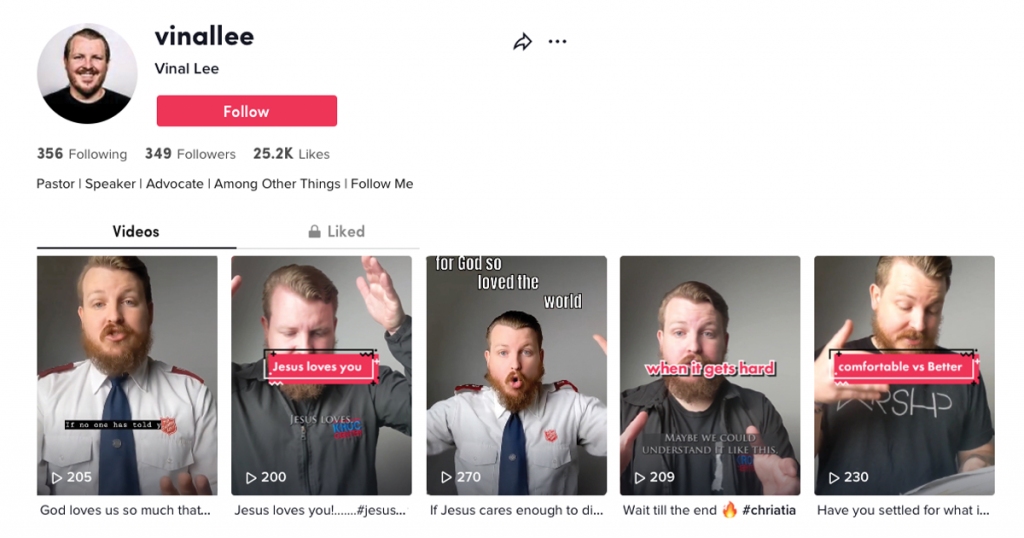 "Our call is to 'win the world for Jesus.' It is imperative that we as followers of Jesus learn how to effectively navigate these spaces so we can preach the gospel of Jesus Christ. The Salvation Army offers a theological perspective that a generation is begging to hear. Where we empower women, care for the environment, invite the poor to collaborate in the kingdom of God, and follow Jesus all the way to heaven. I have created a space for people to follow Jesus," he says.
At the time of writing, Captain Lee is working towards hosting a live Bible study on TikTok, where he plans to go through the scriptures with his followers "cover to cover, chapter by chapter." You can follow him on TikTok @vinallee.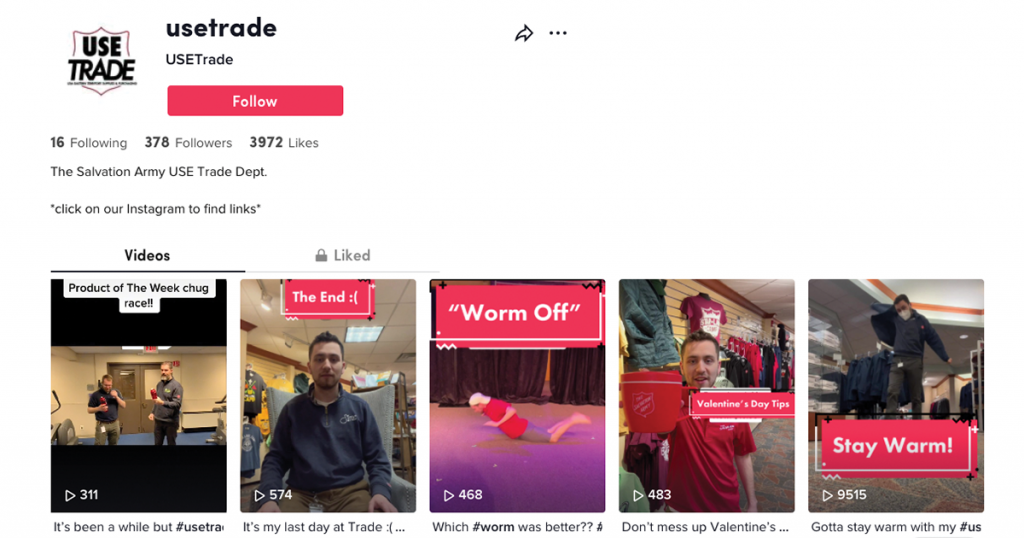 The Eastern Territory's Trade Department also has a sizeable presence on TikTok. The staff shares videos showcasing the products in the store and the work that the department does. They also post clips of brass music, dancing and funny day-to-day coworker life moments. You can follow them on TikTok @usetrade.
These and the other Salvationists that represent the Army on TikTok have recognized that having a positive brand image on such a highly used platform is of the utmost importance when trying to spread a message as consequential as the Gospel. They're co-opting the formats people use to share memes and other content as a way to share positive messages that serve the eternal purposes of God's kingdom. If you or a loved one uses TikTok, be sure to support the people who are working to make it a God-loving community.
–Report by David Reardon