Feature
10 Questions with Derek Lance
"Being a Christian influences every ounce of my life and all of my interactions."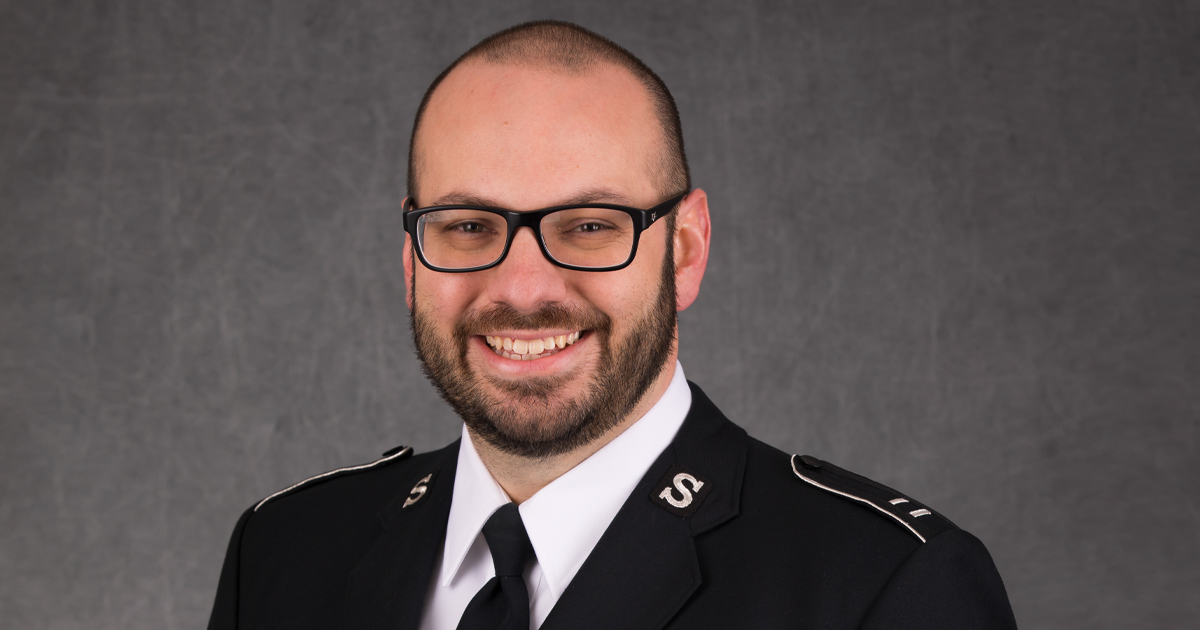 Derek Lance is the USA Eastern Territorial Music Secretary and the Bandmaster of the New York Staff Band (NYSB). He has played in the NYSB cornet section for 14 years. Prior to working for The Salvation Army, Derek was a member of the trumpet section of the United States Military Academy Band at West Point. He studied at two of the finest music conservatories in the world, the Juilliard School in New York and the Curtis Institute of Music in Philadelphia. At these institutions, he had the opportunity to study the trumpet with Mark Gould and David Bilger. He has played with many of the best orchestras in the world and with several Salvation Army bands. Derek and his wife, Lorena, attend the Spring Valley Salvation Army Corps in New York with their daughters Isobel and Caroline where he is the Corps Sergeant Major.
1. How did you meet The Salvation Army?
My parents were officers in The Salvation Army, so it has been a part of my life since the day I was born. Most of my extended family has an ongoing relationship with the Army, and it has been an important of my upbringing in all aspects of my life.
2. What drives you to excel?
I have an insatiable desire to be excellent at everything I do. Whether it's leading a band, playing my cornet, making dinner for my family or playing golf—my desire to be as good as possible is always present.
3. What are two of your greatest strengths?
Two of the things that I admired the most in leaders was how hard they worked and how committed they were. Whether it be because of the desire to be excellent or my upbringing, I would view myself as a very hard worker. When I was in school studying to be a trumpet player, I would often spend several hours a day practicing. I've always tried to transfer that ideal to whatever my focus would be at the time. The second element that I would consider as a strength would be my commitment level to activities that I'm involved in.
4. How would you define servant leadership?
I often say that as a leader, you should never ask someone to do something you wouldn't do yourself. Furthermore, if you are asking your people to commit to a certain level, you, as the leader, should hold an even higher standard. This is the starting point in terms of servant leadership. While you as the leader are there to lead and provide guidance, you are inherently serving all of the people within your sphere of influence as you come along side of them in everything you do together.
5. What are some of your passions and joys?
I love music, food, sports and spending time with family and friends. Our family is currently blessed to live in very close proximity to other family. With all of us growing up in The Salvation Army, this hasn't happened too many times and we (especially my two daughters) are living their best life at the moment.
My love for music is hard to put into words, and this love has really grown during this time of being home these last few months. I have come to appreciate what I have in a more meaningful way. My wife, Lorena, is also a talented musician, and we often can share special music at various events and services. This is still a very special thing to and certainly blessed to have an ongoing music ministry alongside her.
6. Who has been an inspiration to you in life, and why?
Harold Burgmayer was my first teacher and mentor, and we've been friends for over 30 years. Harold was not afraid to be honest with me about what I was doing wrong, what I could do better and how I could become better. Over the last few years, we have served in identical roles in two different territories, and he has been a great asset as I go through life and work.
Another person would be my aunt Carolyn Knaggs. She has been through some incredibly challenging days in her life, and she has always handled these challenges with incredible grace and elegance. Through her heartache, she has continued to be a model Christian. She has truly been that servant leader that we so often speak about.
7. How do you handle change and conflict?
One of the great benefits of being an officer's kid is that you get used to change. I can definitely roll with the punches and get used to new situations, circumstances and surroundings rather quickly. In terms of handling conflict, this is also something that I have gotten used to. As a leader, I like to deal with conflict and handle what needs to be done. That is not always easy, but it's what makes situations better in the long run.
8. Does being a Christian affect the way you view business?
Being a Christian influences every ounce of my life and all of my interactions. There are certainly times when I get frustrated with work, but the desire to be Christ-like can certainly keep these frustrations in check. This desire undoubtedly helps me to be more compassionate, graceful and loving in my daily acts. I would venture to say that without Christ in my life, my interactions with colleagues, friends and family would be far worse.
9. What do you see as a challenge for The Salvation Army?
The world is seemingly falling apart around us and desperately needs to see the love of Christ in action. I'm not sure if this is the greatest challenge at the moment, but while we are focused on serving and providing for physical and practical needs, we need to be just as focused on showing that grace, compassion, forgiveness and love that Christ showed us. The challenge is to keep that beacon of hope for all those we meet and serve.
10. Finally, pineapple on pizza? Yay or Nay?
That is a definite yes! Even better if you add ham and bacon!